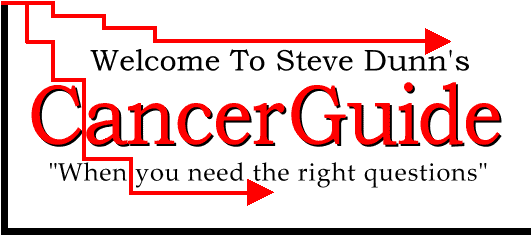 Steve Dunn died on August 19, 2005 from complications of bacterial meningitis. He was a Stage IV (terminal) kidney cancer patient who had been completely cured 15 years earlier, and lived those 15 years cancer-free, active, and healthy.
In 1989, after his doctors said his cancer could not be treated, Steve found a clinical trial through his own research. Later he decided to share what he had learned, primarily through this website and also as an ACOR mailing listowner, speaker, and FDA patient advocate for Kidney Cancer clinical trials. Steve's own story about his cancer (under "Inspirational Patient Stories") tells it better than any of us can. His dedication and determination has helped thousands of patients and caregivers, inspiring many of them to help others.
Cancerguide will go on as a lasting tribute to him. It will always be Steve Dunn's Cancerguide.
---
CancerGuide is created by Steve Dunn, a fellow survivor. For more information about this site and about me, see the About CancerGuide Section.
CancerGuide is different from most sites. It is primarily about helping you learn how to find the answers to your questions and especially to helping you learn what questions you need to ask. I also cover other aspects of coping from attitude to finances. With the big exception of Kidney Cancer, I don't maintain much information on treatment of specific cancers, although I will guide you to such information elsewhere.
CancerGuide will help you to understand your options as deeply as you want to or need to. This includes delving into the latest technical medical literature on your disease. Although it may be difficult, when you are fighting your life you can learn to understand things considered by some to be too difficult for laymen, so nothing here is dumbed down. I hope the serious effort it takes to gain a real understanding will pay off for you as it did for me. At the same time this path is not for everyone. You may want to read about the Pros and Cons of Researching Your Cancer before going any further.